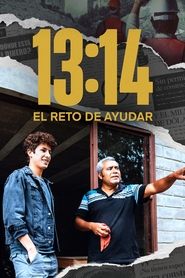 13:14. The Challenge of Helping (2022)
On September 19, 2017, at 1:14 p.m., an earthquake devastated Mexico City and its environs. Immediately, citizens mobilized to help, including the actor and youtuber Juanpa Zurita who quickly organized a group of friends that included singers, actors, content creators and other celebrities from the world of entertainment who helped him raise funds for the reconstruction of the city.
Views: 7
Genre: Documentary
Director: Santiago Fábregas
Actors: Álex García, Ana Brenda Contreras, Andrés Martínez Zurita, Carlos Rivera, Chloe Campero, Danna Paola, Eugenio Derbez, Fernando Martínez-Zurita A, Fernando Martínez-Zurita Jr., Germán Garmendia, Gustavo Adolfo Infante, Jérôme Jarre, Jorge Bermudez, Juan Manuel Pérez Munra, Juan Pablo Zurita, Juca Viapri, Lele Pons, Luis Arturo Villar Sudek, Luis Gerardo Méndez, Mario Bautista, Miguel Bosé, Mikel Arreola, Montserrat Oliver, Nathalia Campos Trigos, Pambo, Paola Rojas, Pati Chapoy, Pau Zurita, Said Sheik-Abdi, Sofía Niño de Rivera, Ximena Suárez Corzo
Country: USA
Duration: 90 min
Quality: DVD
Release: 2022
Tagline: If a natural disaster affected your country, what would you do?
Original Title: 13:14: El Reto de Ayudar
4.2