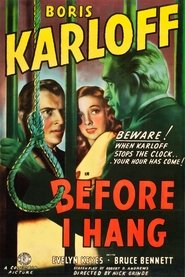 Before I Hang (1940)
A physician on death row for a mercy killing is allowed to experiment on a serum using a criminals' blood, but secretly tests it on himself. He gets a pardon, but finds out he's become a Jekyll-&-Hyde.
Views: 29
Director: Nick Grinde
Actors: Ben Taggart, Bert Moorhouse, Bertram Marburgh, Boris Karloff, Bruce Bennett, Charles Trowbridge, Don Beddoe, Eddie Laughton, Edmund Mortimer, Edward Earle, Edward Van Sloan, Ernie Adams, Evelyn Keyes, Frank Richards, Frederick Burton, George McKay, Gohr Van Vleck, Jack Cheatham, James T. Mack, John Tyrrell, Kenneth MacDonald, Pedro de Cordoba, Richard Fiske, Robert Fiske, Sam Harris, Stanley Brown, Wright Kramer
Country: USA
Duration: 90 min
Quality: HD
Release: 1940
Tagline: Beware! When Karloff stops the clock, your hour has come!
4.2