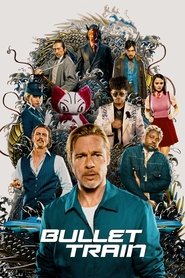 Bullet Train (2022)
Unlucky assassin Ladybug is determined to do his job peacefully after one too many gigs gone off the rails. Fate, however, may have other plans, as Ladybug's latest mission puts him on a collision course with lethal adversaries from around the globe—all with connected, yet conflicting, objectives—on the world's fastest train.
Views: 1211
Director: David Leitch
Actors: Aaron Taylor-Johnson, Andrea Muñoz Hoyos, Andrew Koji, Bad Bunny, Brad Pitt, Brian Tyree Henry, Channing Tatum, Emelina Adams, Hiroyuki Sanada, Jason Matthew Smith, Jeff Imada, Joey King, Johanna Watts, Jose J Santana, Julio Gabay, Karen Fukuhara, Lee Chen, Logan Lerman, Masi Oka, Michael Shannon, Miraj Grbić, Nancy Daly, Nobuaki Shimamoto, Pasha D. Lychnikoff, Reut Fish, Ryan Reynolds, Sandra Bullock, Yoshi Sudarso, Zazie Beetz
Country: USA
Duration: 90 min
Quality: CAM
Release: 2022
Tagline: The end of the line is just the beginning.
4.2