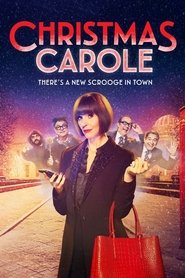 Christmas Carole (2022)
Carole Mackay is an unashamedly outspoken and wealthy entrepreneur. Her online business selling all things festive has earned her a fortune, as well as the nickname 'Christmas Carole'. But her success hasn't made her a better human being. In fact, it's made her worse. The truth is that Carole is a monumentally mean person. Positively Scrooge-like. And, just like Ebeneezer, she doesn't love Christmas at all. But this Christmas Eve, Carole's past, present and future are about to collide. Will some rather familiar Christmas spirits help her discover the true spirit of Christmas?
Views: 1
Director: Ian Fitzgibbon
Actors: Alex Carter, Ayani Deshmukh, Bailee Carroll, Barry McCarthy, Billy Hickey, Buckso Dhillon-Woolley, Danny Ashok, David Hemsted, Grant Olding, Ian Ashpitel, Jamie Kenna, Jo Brand, Jonty Stephens, Julie Fernandez, Kirsty Averton, Llewella Gideon, Louis Pearson, Lowell Jackson, Lucy Trodd, Mark Benton, Martin Delaney, Matilda Firth, Neil Ashton, Nina Barenboym, Nish Kumar, Nish Nathwani, Rajiv Karia, Rosie Cavaliero, Sacha Church, Sam Pamphilon, Sarah Daykin, Simon Kane, Sura Dohnke, Suranne Jones, Taj Atwal, Tianyi Kiy, Xander Phillips, Zach Gerrard
Country: UK
Duration: 66 min
Quality: 720p HD
Release: 2022
Tagline: There's a new Scrooge in town.
4.7