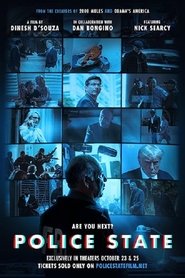 Police State (2023)
Dinesh D'Souza claims federal organizations like the FBI, CIA, and DOJ are corrupt and are unfairly and selectively targeting Christians and conservatives/Republicans.
Views: 77
Genre: Crime, Documentary
Director: Dinesh D'Souza
Actors: Colin Haag Jr., Dan Bongino, Darren Beattie, Dinesh D'Souza, Jim Jordan, Julie Kelly, Kash Patel, Kyle Seraphin, Nick Searcy, Peter Schweizer, Rand Paul, Steve Friend, Troy Nehls, Yeonmi Park
Country: USA
Duration: 110 min
Quality: DVD
Release: 2023
Tagline: There is nowhere to hide. They have their lists. Are you next?
5.667