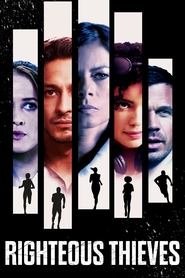 Righteous Thieves (2023)
Annabel, the leader of a secret organization engaged in the recovery of priceless artwork, assembles a ragtag crew of art thieves to recover a Monet, Picasso, Degas, and Van Gogh stolen by Nazis during WWII and now in the possession of neo-Nazi billionaire oligarch Otto Huizen. As the planned heist approaches, loyalties are tested when the crew learns the real reason behind Annabel's search for the long-lost paintings.
Views: 442
Genre: Action, Crime, Thriller
Director: Anthony Nardolillo
Actors: Brian Cousins, Cam Gigandet, Carlos Miranda, Cecille Del Rosario, David Gilchrist, Jaina Lee Ortiz, Lisa Vidal, Melissa Marty, Mitch Poulos, Sasha Merci, Tiago Roberts
Country: USA
Duration: 91 min
Quality: HD
Release: 2023
Tagline: An improbable team. An impossible mission.
5.1