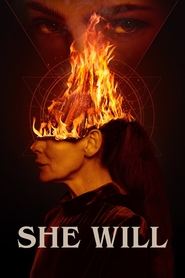 She Will (2022)
Veronica, an aging film star, retreats to the Scottish countryside with her nurse Desi to recover from a double mastectomy. While there, mysterious forces give Veronica the power to enact revenge within her dreams.
Views: 109
Genre: Drama, Horror, Thriller
Director: Charlotte Colbert
Actors: Alice Krige, Amy Manson, Andrew Steele, Apple Yang, Catriona McNicoll, Daniel Lapaine, Fiz Marcus, Jack Greenlees, Joanna Bacon, John McCrea, Jonathan Aris, Kenneth Collard, Kota Eberhardt, Layla Burns, Malcolm McDowell, Olwen Fouéré, Renee Williams, Rupert Everett, Stephen Adjei-Kyem, Thomas Handling
Country: USA
Duration: 90 min
Quality: HD
Release: 2022
Tagline: Unleash the past.
4.2