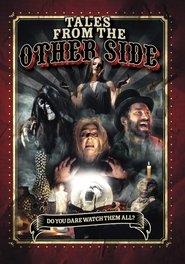 Tales from the Other Side (2022)
Three kids sought out to have the most legendary Halloween night ever. Their Trick-or-treat adventure brings them to the home of the local town legend "Scary Mary". Legends say that she is a woman of pure evil, but one thing is for certain – She knows just the right spooky tales to give these three kids the scare of their life. Sharing six unique stories that will lead the children down a mysterious path to the unexpected.
Views: 54
Genre: Horror
Director: Jacob Cooney
Actors: Anna Harr, Brandon Thane Wilson, Brooklyn Anne Miller, Cat LaCohie, Chelsea Vale, David Gere, Donna Morrell Gafford, Hunter Johnson, James Duval, John Haegele, Leticia LaBelle, Michael Broderick, Nick Principe, Roslyn Gentle, Trae Ireland, Vernon Wells
Country: USA
Duration: 90 min
Quality: HD
Release: 2022
Tagline: Do you dare watch them all?
4.2