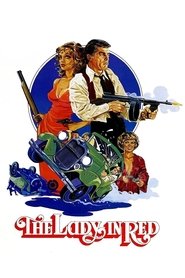 The Lady in Red (1979)
A farm girl's life turns upside down after being in the wrong place at the wrong time. She moves to Chicago and becomes trapped in a vicious cycle of prostitution and crime.
Views: 15
Genre: Action, Crime, Romance, Thriller
Director: Lewis Teague
Actors: Alan Vint, Arnie Moore, Blackie Dammett, Buck Young, Chip Fields, Christopher Lloyd, Dick Miller, Glenn Withrow, Ilene Kristen, Jay Rasumny, John Guitz, Joseph X. Flaherty, Kitten Natividad, Laurie Heineman, Louise Fletcher, Mary Woronov, Michael Cavanaugh, Milt Kogan, Nancy Parsons, Pamela Sue Martin, Peter Hobbs, Peter Miller, Phillip R. Allen, Robert Conrad, Robert Forster, Robert Hogan, Rod Gist, Rosie Malek-Yonan, Saul Krugman, Terri Taylor
Country: USA
Duration: 93 min
Quality: HD
Release: 1979
Tagline: She's made of bullets, sin & bathtub gin!
5.667