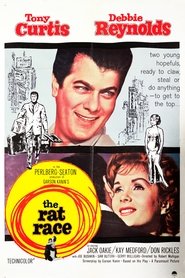 The Rat Race (1960)
An aspiring musician arrives in New York in search of fame and fortune. He soon meets a taxi dancer, moves in with her, and before too long a romance develops.
Views: 14
Director: Robert Mulligan
Actors: Debbie Reynolds, Don Rickles, Gerry Mulligan, Hal K. Dawson, Jack Oakie, Joe Bushkin, Johnny Lee, Kay Medford, Lisa Drake, Marjorie Bennett, Norman Fell, Sam Butera, Stanley Adams, Tony Curtis
Country: USA
Duration: 105 min
Quality: HD
Release: 1960
Tagline: CAUGHT...in the wild, frantic, furious...rat race!
6.5