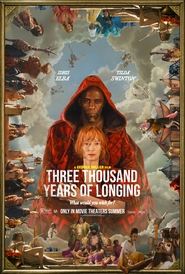 Three Thousand Years of Longing (2022)
A lonely and bitter British woman discovers an ancient bottle while on a trip to Istanbul and unleashes a djinn who offers her three wishes. Filled with apathy, she is unable to come up with one until his stories spark in her a desire to be loved.
Views: 1160
Genre: Drama, Fantasy, Romance
Director: George Miller
Actors: Aamito Lagum, Aiden Mckenzie, Alyla Browne, Amelia Patomaki, Angie Tricker, Anna Adams, Anne Charleston, Arshia Dehghani, Aska Karem, Berk Ozturk, Botan Ozer, Burcu Gölgedar, Burwaiss Ahmed, Callum Moran, David Collins, David Paulsen, Ece Yüksel, Erdil Yaşaroğlu, Feride Eralp, Georgiou Thomas, Hayley Gia Hughes, Hugo Vella, Idris Elba, Jack Braddy, James Dobbins Jones, Jason Jago, John Puckeridge-Webb, Kaan Guldur, Lachy Hulme, Matteo Bocelli, Megan Gale, Melissa Jaffer, Melissa Kahraman, Michelotti Edoardo, Nathan Susskind, Nicola Mouawad, Ogulcan Arman Uslu, Olivia Porter, Pia Thunderbolt, Prakash Paul, Quaden Bayles, Randolph Fields, Ronny Mouawad, Sabrina Elba, Sarah Houbolt, Seyithan Özdemir, Shakriya Tarinyawat, Shane Miller, Tahlia Crinis, Talia Tulin Sert, Tendai Dzwairo, Tilda Swinton, Zerrin Tekindor
Country: USA
Duration: 90 min
Quality: 720p HD
Release: 2022
Tagline: What would you wish for?
4.2